Apple Graham Coffee Cake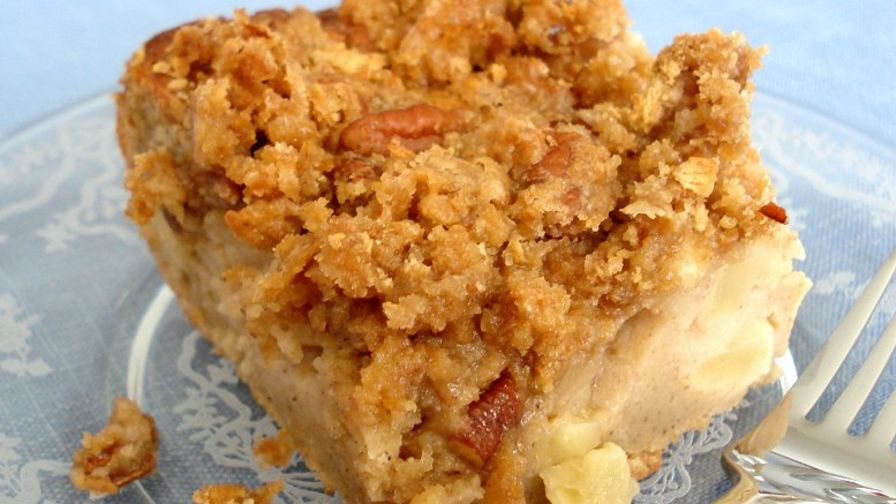 Ingredients
GRAHAM STREUSEL TOPPING
1/2 cup M.Y. San Honey Graham crackers,crushed
1/4 cup flour
2 tablespoons brown sugar
1/2 teaspoon cinnamon powder
1/2 cup oatmeal
1/4 cup cold margarine, cut into pieces
CAKE
1 cup M.Y. San Honey Graham crackers,crushed
1 cup all purpose flour
3/4 cup sugar
1/4 cup margarine, melted
1 cup non fat milk
3 teaspoons baking powder
1 teaspoon cinammon powder
1/2 teaspoon salt
2 egg whites
2 medium apples
Procedure
Combine dry ingredients in a medium bowl. Cut margarine into dry ingredients until crumbly. Set aside.
Pre heat oven to 350F. Line the bottom of an 8 inch round cake pan with non stick paper.
In a large bowl, combine all ingredients except the apples. Mix well. Stir in apples. Spread half of the cake batter into the prepared pan. Sprinkle with half the streusel topping. Top with remaining cake batter and sprinkle remaining streusel.
Bake for 1 hour, or until toothpick inserted in the center of the cake comes out clean. Remove from oven. Cool. Remove cake from pan. Serve.
Recipes Source: http://mysan-grahams.com.ph/recipes/list